Thinking about promoting your newest app but have a limited budget? Don't worry, there are plenty of ways to promote your mobile app for free. Check out our list to find some ideas for advertising your latest creation.
You have created a new mobile app. After all of this hard work and countless hours spent developing and perfecting it, you are finally ready to upload your product to the app store and wait for a stream of new users to pour in. But after the launch, you might find that you have a far lower number of users downloading and using the app than you had hoped for. You expected thousands of people flooding the app store, but you have about a dozen. Why? A lack of advertising might be the culprit.
Competition for user's attention is becoming increasingly fierce. In 2019, consumers downloaded 204 billion apps. In 2020, there are expected to be over 592 million daily app downloads.
If you want to make your app stand out from the crowd, you need an outstanding product, as well as an effective way to reach your app's target audience.
But spreading the word about your brand new app might be tricky, especially when you don't have a big enough budget to use paid methods for getting exposure. But that doesn't mean it's a lost cause - quite the opposite. There are several ways to promote your mobile app for free, so you only need to spend your time and energy on them. To help you get the word out, we have gathered 10 tried-and-tested methods for how you can promote your app for free, so that you can bring people in to download it even if you are on a shoe-string budget. Let's get to it then!
1. Start with ASO (App Store Optimization)
Everyone knows that focusing on SEO optimization for all content posted on the internet is essential. App Store Optimization (ASO) is equally important - 70% of mobile users start their search for a new app in the app store itself. What's more, 65% of those users download an app straight after searching. If you want your app to be the one most clicked on and downloaded by mobile users, you should spend some time analyzing and optimizing its overall appearance in the app store.
According to TheTool research on App Store optimization, the factors that are most important for good visibility on app stores are similar for both the Google Play Store and the Apple App Store. They are the app's name, the localized product page, user ratings, description, and reviews. Meanwhile, when it comes to downloads, optimizing your screenshots and app icon can give you a massive boost, as those two elements are rated the highest when it comes to influencing the conversion rate.
2. Create a demo video
Another thing that can make a difference to your app's number of downloads is a demo video. Not only is video often mentioned to be one of internet users' favorite types of content, but 54% of consumers say they want to see more video content from brands, and 73% admit that they were persuaded to try a product or service after watching a video. So creating a demo video is the best bet if you want to show your app benefits in an easily-digestible format.
Demo videos can also be used for paid forms of advertisement later - to offer "Playable ads" on Facebook (meaning, interactive ads that allow mobile app developers to offer a short preview of how their app works) or to show them as a regular ad inside another application.
However, when creating your clip, remember that it shouldn't be longer than 30 seconds and that it should answer "why," "how," and "what" type questions. Besides adding the video to your app store page, you should also post it on your social media profiles, blog, and company website.
3. Build a landing page for your app
Another place where your newly created demo video should be shown to the world is a landing page designed specifically for your app. There, your target audience can find different content showing your app's features and benefits (like promotional videos, screenshots, or press releases), related news, reviews, and testimonials, plus links to the app store. To build the page, you can use one of the free landing page builders - or do it from scratch by yourself.
If your app isn't released yet, a good idea would be to create a "pre-launch campaign" landing page where people can sign up for your newsletter and app store release alerts in exchange for exclusive bonuses. You can also use it as an opportunity to start building closer relationships with potential users.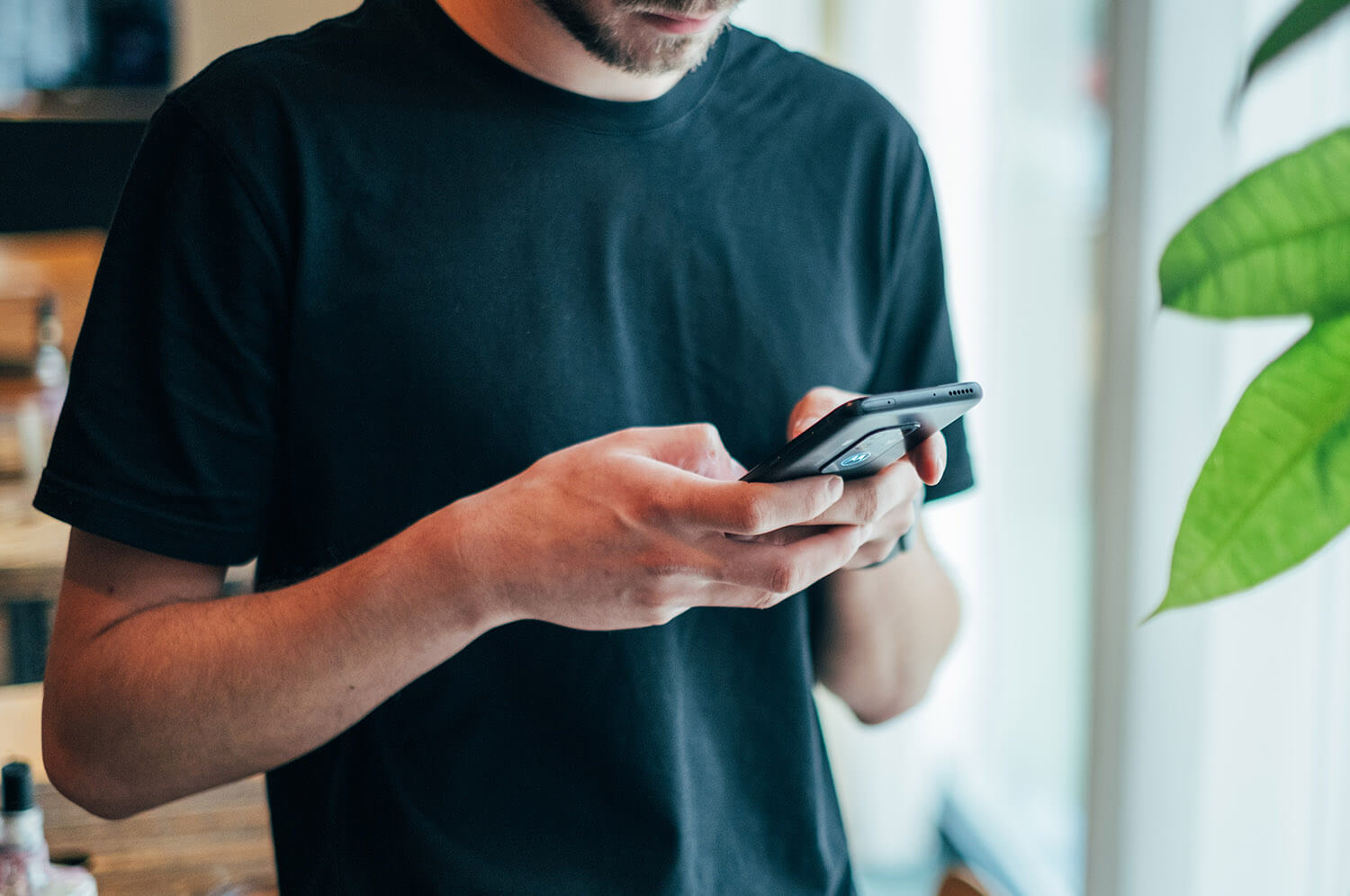 4. Use social media
Nowadays, 91% of companies use social media marketing to build brand awareness and to interact with their audience. If your company has a social media profile too, why not use it to advertise your app? Since you are followed by people who are already interested in your company and your product, they are also far more likely to try out your new app than those who don't follow you. Of course, I don't mean you should just post a link to your latest creation with "download now!" on your main company account or to social media groups.
Instead, pique your customers' curiosity by sharing videos, describing your app's main features, holding contests with prizes, or informing them about updates. A great idea to generate some buzz is creating special codes that your followers can use to get a discount or an exclusive bonus.
What's more, social media is one of the best places to ask your followers for their feedback on the app - what they like about it, what they don't, and what features they would like to see next. Besides increasing your visibility, you will also gather plenty of data on what your audience actually wants from you, and you'll be able to optimize your app in the way your audience wants.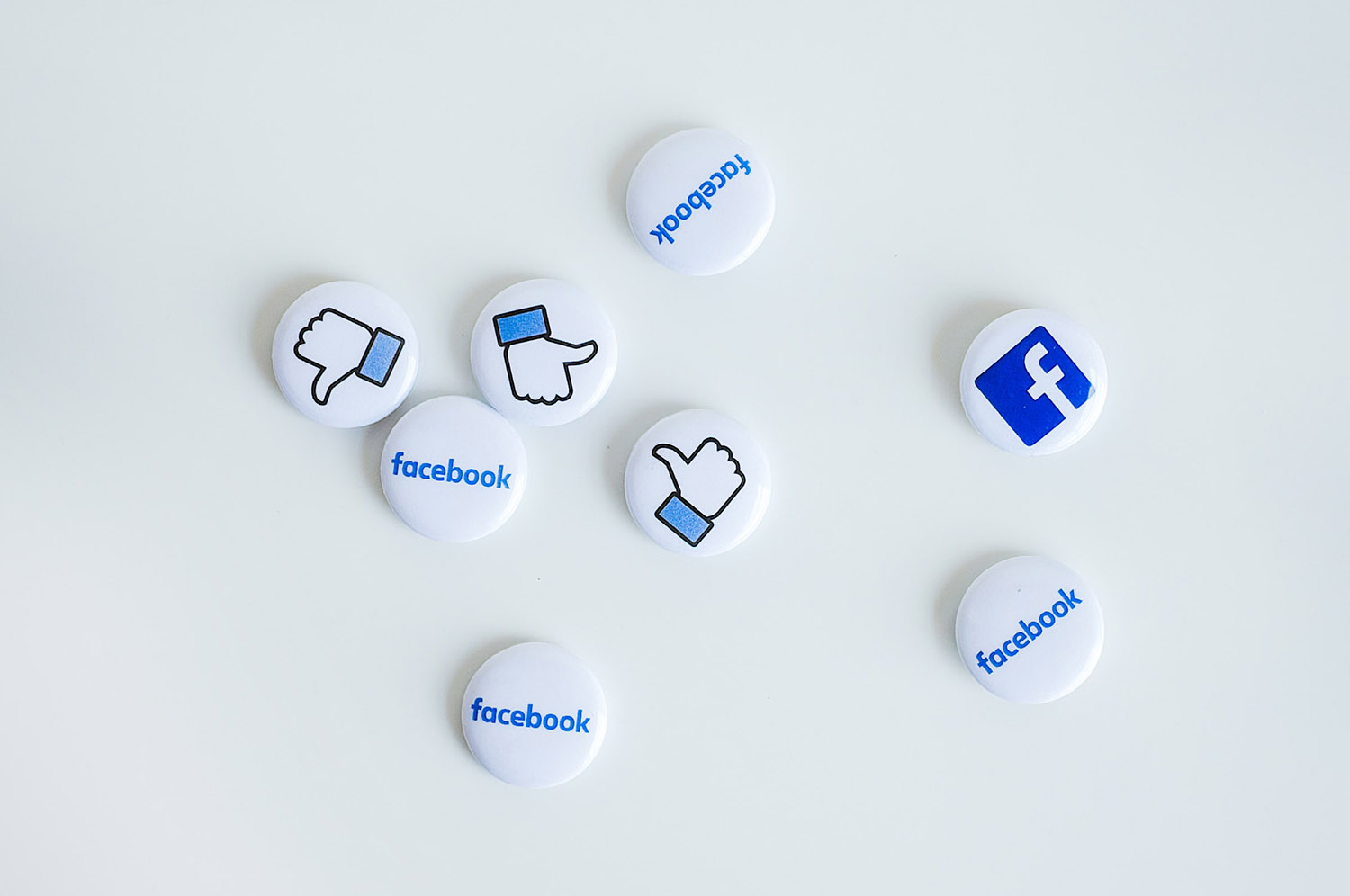 5. Respond to all comments and questions
Following on from the point above, if you get a review, question, or comment from your followers, you should always take the time to respond. Answering questions or doubts coming from your app users, thanking them for a positive review, or helping them fix an issue can increase your credibility and the trust your followers have in you. This means they are more likely to keep using your app, and, equally importantly, tell their friends about it.
Showing a willingness to respond and give detailed answers to questions or comments might also encourage other people to try out your app, since they will feel that they can count on you to answer if they have a problem.
Replying to comments and reviews is especially important when a user mentions they are unsatisfied with the app due to bugs, a poor user experience, or not working the way they expected. You might be tempted to either ignore those comments or send an automated message, but if your followers feel you are not taking their opinions seriously, they will simply uninstall the app and unfollow your account.
Whenever you have a negative review or a complaint, apologize to the user for the inconvenience, acknowledge the problems they are facing, and tell them what you plan to do to solve their issue. For example, if the problem is that the app is frequently crashing on the user's phone, you can ask them for their mobile device specifications to pinpoint the exact reason the app is malfunctioning - and fix it.
6. Promote the app on your blog OR reach out to well-known bloggers in your industry
If you have a regularly updated company blog, you can also use it to promote your mobile app for free. All you need to do is to create and share content related to your mobile app. You could create a video tutorial showing how to use a given feature, offer tips and tricks on how your users can get the most out of your app, or simply show how it can help your users day to day. For example, Freedom blog wrote an article about how people can use their website blocking app to limit the amount of news they read daily - to not fuel their anxiety with yet more coronavirus news.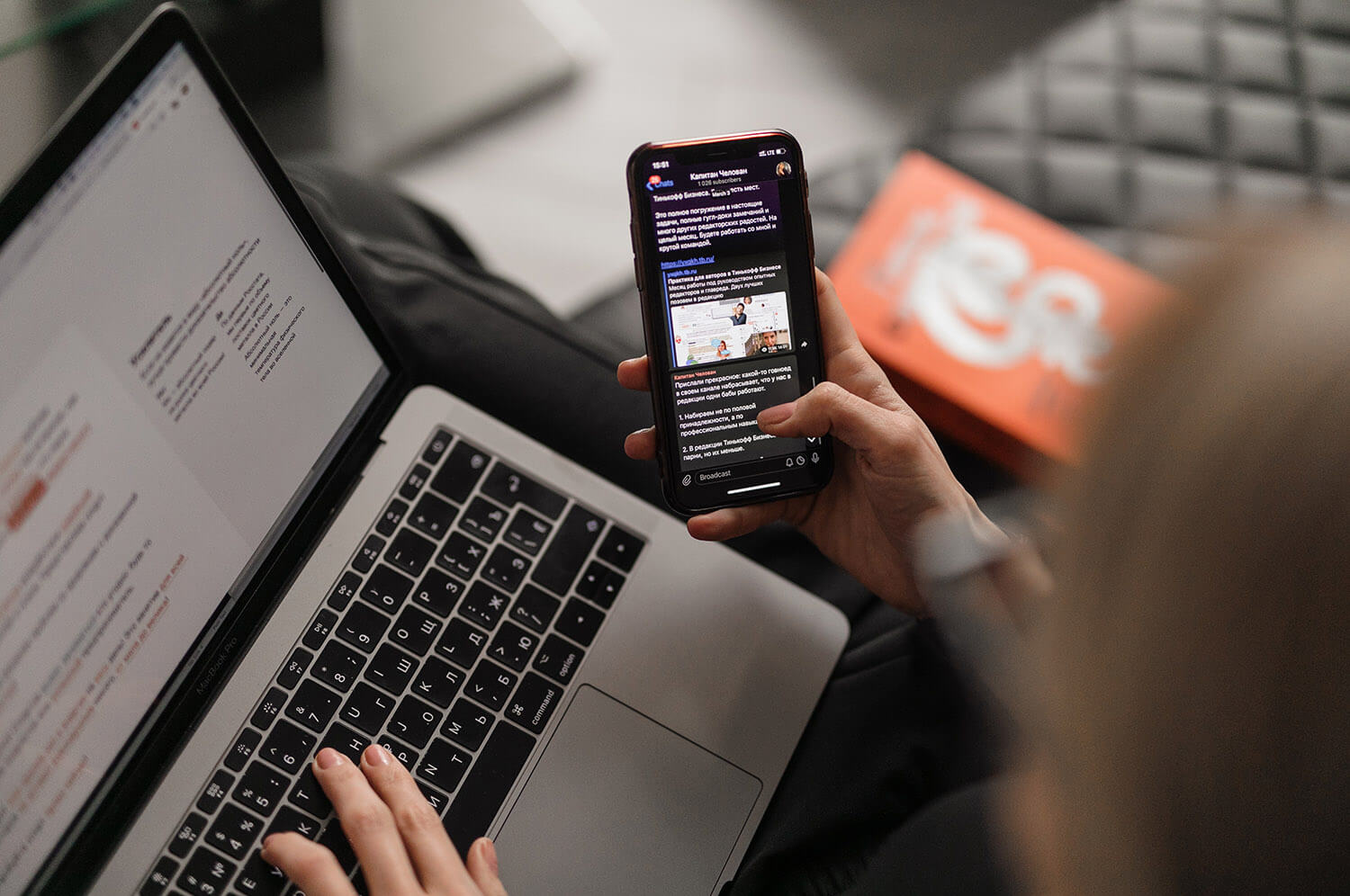 If you don't have your own blog yet, you can create guest posts for popular blogs in your industry. Publishing a useful and relevant article (with a small mention of your new app) as a guest will make yourself known to the blog's followers and earn some backlinks that will help you with SERP positioning.
7. Partner with influencers
"Isn't the article about how I can promote a mobile app for free? Hiring an influencer will cost a fortune!" - that's what you might have thought when reading this point. And when it comes to the "big names," getting them to advertise your product would indeed cost a pretty penny.
But how about partnering with tech enthusiasts or so-called micro-influencers? Those people might not have an Instagram celebrity's outreach, but they will already have a stable and engaged audience, so they can actually have as much of an impact. First, research which bloggers or YouTubers would be most fitting to try out your app based on what topics they write about and their audience. You shouldn't focus only on how many followers a blogger has - what really matters is whether their audience is likely to be interested in your product or not.
After you find influencers relevant to your product, it's time to contact them and ask them to review your app. Famous bloggers get plenty of such offers each day, though, so you need to be persuasive - a good tactic here would be to send them an email with your idea for a post and what exactly the influencer will get out of the collaboration.
Below is one example of how this kind of collaboration might look: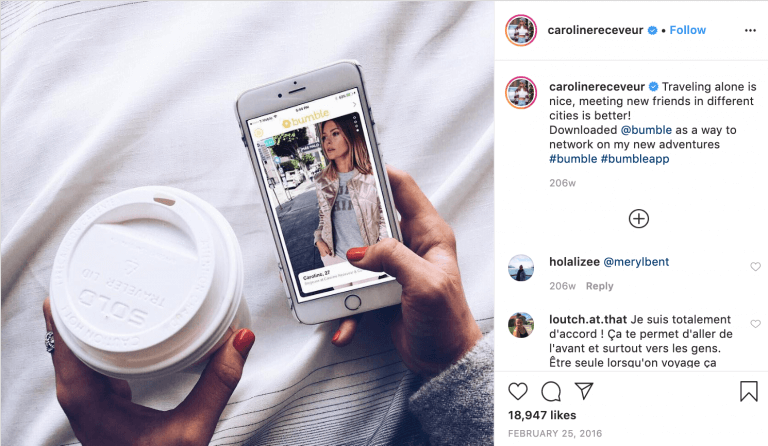 Source: instagram.com/carolinereceveur/
8. Get your app featured on ProductHunt
Product Hunt's audience is full of founders, developers, and app enthusiasts who love to discover and try out new apps, so it's a fantastic place to show off your latest app. It's also a wonderful place to get a lot of exposure for your brand and find ideas on how you can improve your product further, as many PH users are happy to become "early adopters," test your product inside out, and then give their feedback regarding the functionality of the app.
How does it work? The PH community gives upvotes to the apps they like every day. The more upvotes and reviews you get, the higher you will be in the Product Hunt ranking - and if you earn enough upvotes to be in the Top 10, your app will also be included in Product Hunt's mailing digest.
There are caveats, though. One, you need a detailed entry to submit to PH (with high-quality screenshots, graphics, and content that highlights the benefits of your product, such as a promotional video). Two, if you aren't an active user of the PH community, it would be better if you reached out to more popular users to launch ("hunt") the entry for you.
As being featured on PH "Popular" list can bring plenty of benefits (starting from an increased number of downloads and reviews, to getting press interested in your product), you will be competing with many other companies that are trying to boost their popularity using Product Hunt, so take your time to prepare exceptional promotional materials.
9. Apply for mobile app awards
Many organizations regularly hold contests and award applications in various categories. Such competitions also tend to draw in a vast number of users looking for the most promising apps - getting a mention here will attract their attention and lead them to try out your app. Plus, being awarded in such competitions will give you a massive boost in traffic, especially when journalists and bloggers mention your award. There's a number of online app contests you can take part in, such as:
• Apps for Good Awards
• The Best Mobile App Awards
• Appy Awards
• Best App Ever Awards
• AppCircus competition
• Apple Design Awards
• Appster's Awards
• The Webby Awards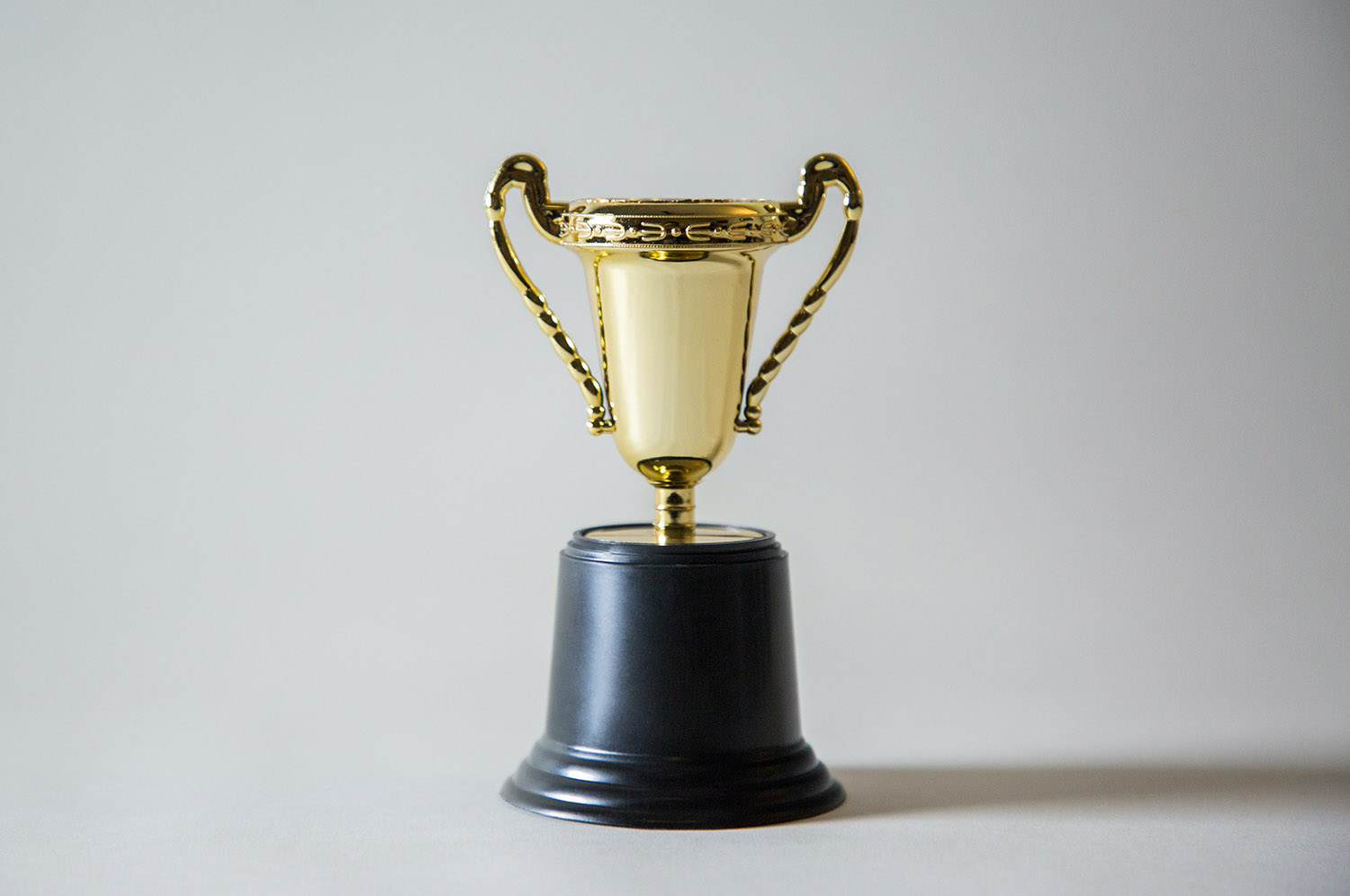 For most competitions, you can easily submit your app to the contest (either for free or a small fee) but keep in mind that, as with Product Hunt, you'll have to face many rivals. Before submitting your application, take time to prepare an exceptional entry describing your app's benefits.
10. Use alternative app stores
The Apple App Store and Google Play stores are the most popular app stores on the internet, obviously. But did you know there are many less known, but still popular app stores where you can submit your mobile app to get an extra traffic boost? To name just a few:
• GetJar
• SlideMe
• Bemobi Mobile Store
• Samsung Galaxy Apps
• Amazon Appstore
• Mobango

While Google Play and the Apple store have the highest market share of all app stores, and should be the primary place for you to promote your app, it also means that ranking high on those pages might be tricky. Adding your app to other app stores broadens your reach and might give you a nice download boost.
Conclusion
Building an outstanding app is just one thing you need to do to help guarantee that it will be successful (and we're happy to help you out with that). You need to spend an equal amount of time and effort on advertising the app to your audience. Fortunately, there are plenty of ways that you can promote your mobile app for free, without straining your budget - from optimizing your app for different stores, through mentioning it on your social media and website, to applying for mobile app awards. Many of these methods will also build your reputation as a trustworthy and knowledgeable company, so it's a win-win!
Now that you know how you can get the word out about your app, why not test some of these ideas during your next launch?
You may be also interested in:
➤ The 7 Most Common Mistakes When Creating a Mobile App
➤ How Can You Get Close to Your Users with the Power of Microcopy?
➤ Cats and Dogs: The Weather App - Mobile App Development Case Study