IoT software development
Organizations that can benefit from Internet of Things
The market for Internet of Things technologies is rapidly evolving. New devices, software, and increasingly powerful networks keep opening up novel avenues for applying this technology. Consumers, employees, and decision-makers alike, everyone can benefit from well-implemented IoT systems. 
Internet of Things is already quite popular in:
• Industrial manufacturing – if there's a complex supply chain, there's room for optimization with connected devices
• Utilities – streamline internal operations with sensors and data, provide unparalleled customer service with connected IoT devices like smart meters
• Consumer products and services – IoT in consumer products is becoming the norm, and customers appreciate it
• Healthcare – providers are discovering a lot of potential for improving medical care with IoT systems 
• Enterprise – large-scale business operations can run smoother with IoT 
• Farming – sensors, GPS devices, controllers and software can improve efficiency of farming while reducing the amount of manual work 
• Travel and Transportation – monitor fuel usage, track fleet vehicles, and use data to optimize operations
Take heed: Internet of Things is not a quick win. It takes a lot of commitment to generate ROI with this technology, but it can be a huge step-up for your organization when you get it right. 
Unlocking the potential of IoT
Tracking
Track everything and automate resource management. From warehouse conditions to vehicle locations, you can track anything you need.
Precision
Increase yields, reduce errors, avoid accidents. IoT systems can optimize the way your team works, and help you achieve repeatable results.
Data
Collect data from your IoT network to make informed decisions. Find patterns, identify bottlenecks, and become a data-driven organization.

Understanding Internet of Things
You have the opportunity to break new paths, but tread lightly
The Internet of Things promise
You can put sensors or controllers on anything and make it communicate over a network. The biggest promise of IoT is that connected devices can exchange data and trigger actions without any human involvement. You gain more time, your life and your work become easier. 
If the current pace of technological progress continues, everything that can be connected will eventually be connected. The IoT dream is to harness the power of networks and use it to automate all parts of our lives. 
It's already happening, albeit with some hiccups along the way. The promised value of IoT is real, but not every organization will be able to unlock it. Implementing and maintaining IoT systems is highly difficult. 
IoT software development
Whenever you connect things to the internet, you're entering a world of risk. There's no way around it, and the Angry Nerd ethos forbids us from omitting important facts, even though this might put you off the idea of IoT. 
What are the risks? Let's start with technology limitations.  
Plenty of IoT devices can't be updated. When hackers find holes in them, they're called unpatchable exploits. This is the kind of thing that even Apple is afraid of, because the only thing you can do to be safe again is to change devices. 
Unpatchable exploits are caused by hardware. There can also be security holes in the software that runs on your network or individual devices. Any exploits give hackers the option to enter your network and do damage to your operations or infrastructure. 
Another risk is related to the relatively young IoT ecosystem. 
Standards unify the way devices and networks work, and make it possible to connect different things into one system. But standards in IoT aren't mature yet. There are several different standards, as well as a lot of ways to build IoT systems.  
Best practices evolve all the time. This doesn't make it easy for IoT developers and engineers. It's even harder for decision-makers – do you invest now, or wait for new technological developments? 
Finally, there's risk of human error. 
IoT systems are large and complex. Depending on your scale, it can be hundreds, thousands, or millions of devices. This creates a lot of room for errors. The devices can be manufactured and programmed properly, but might still end up being deployed in the wrong way. 
How can you eliminate these risks? 
If you want to launch an IoT initiative, you need to be absolutely ruthless about security. There's no such thing as too much security. 
Choose your partners wisely. Beware of hardware with unpatchable exploits, and work with experienced software development providers when building your system. 
Allow experimentation. The best thing about experiments is that failure becomes a success, because you learn what you shouldn't do. This experimental approach can be quite useful when you're launching and IoT system. 
Examples of IoT
Is your smartphone or computer an IoT device? Not really, because they generally don't do things automatically. You have to work on them to do something. That's the main advantage in IoT systems – once set up, they need minimal human input or none at all. 
Since you can turn anything into a connected device, there are endless opportunities in IoT.  
One of the most prominent examples is surveillance. Connected cameras stream video data into a secure location. Combined with AI or machine learning, the system warns you whenever something unwanted is happening at your facilities or your home. 
Whole cities can be connected. In any modern city, the infrastructure is already teeming with different devices and networks. As time goes by, they will evolve and enable new ways to manage human settlements. 
IoT can make your home smart. Control temperature, lights, or even your coffee maker to make mornings a little bit more bearable. 
Wearables were probably the first contact with IoT devices for a lot of people. For example, smart bands that can track your location in case of emergencies, or monitor health signals to keep track of your well-being. 
IoT devices can be given to patients in order to control how they're responding to treatments, and to provide emergency care in case their health gets worse. 
Farmers can use IoT to monitor how their crops are doing, automate watering systems, or even make tractors and other machines drive themselves.  
Adding connected sensors to fleet vehicles can help reduce fuel consumption, or identify problems before they can take a vehicle out of rotation. 
All this is just the tip of the iceberg. When it comes to IoT, if you can dream it – it's probably possible. If not right now, then in a few years. 
The flexibility and communication skills of the Angry Nerds team are impressive. A profitable and successful long-term partnership has resulted from Angry Nerds consistently delivering reliable, quality, on-time products.
Alexander Peschke, Owner of Peschkedesign
The key characteristic I see in Angry Nerds is their flexibility. They were open to any modifications in the project, reacted quickly to the changing requirements and easily adapted to the new situation. I really appreciate how thoughtful and open-minded they are towards our needs.
Jerzy Lipiński, Co-Founder of Optimatik LLP
Angry Nerds are always eager to work out a solution that will be beneficial for us. They also quickly react to our feedback (…). They're a supportive business partner, and we're sure we can trust them with any challenge.
HR Digital Innovations Manager, International Restaurant Operator
Case study
Cats and Dogs: The Weather App
A weather app with a twist! Based on the designs provided by the client, we developed a mobile app that is both useful and entertaining.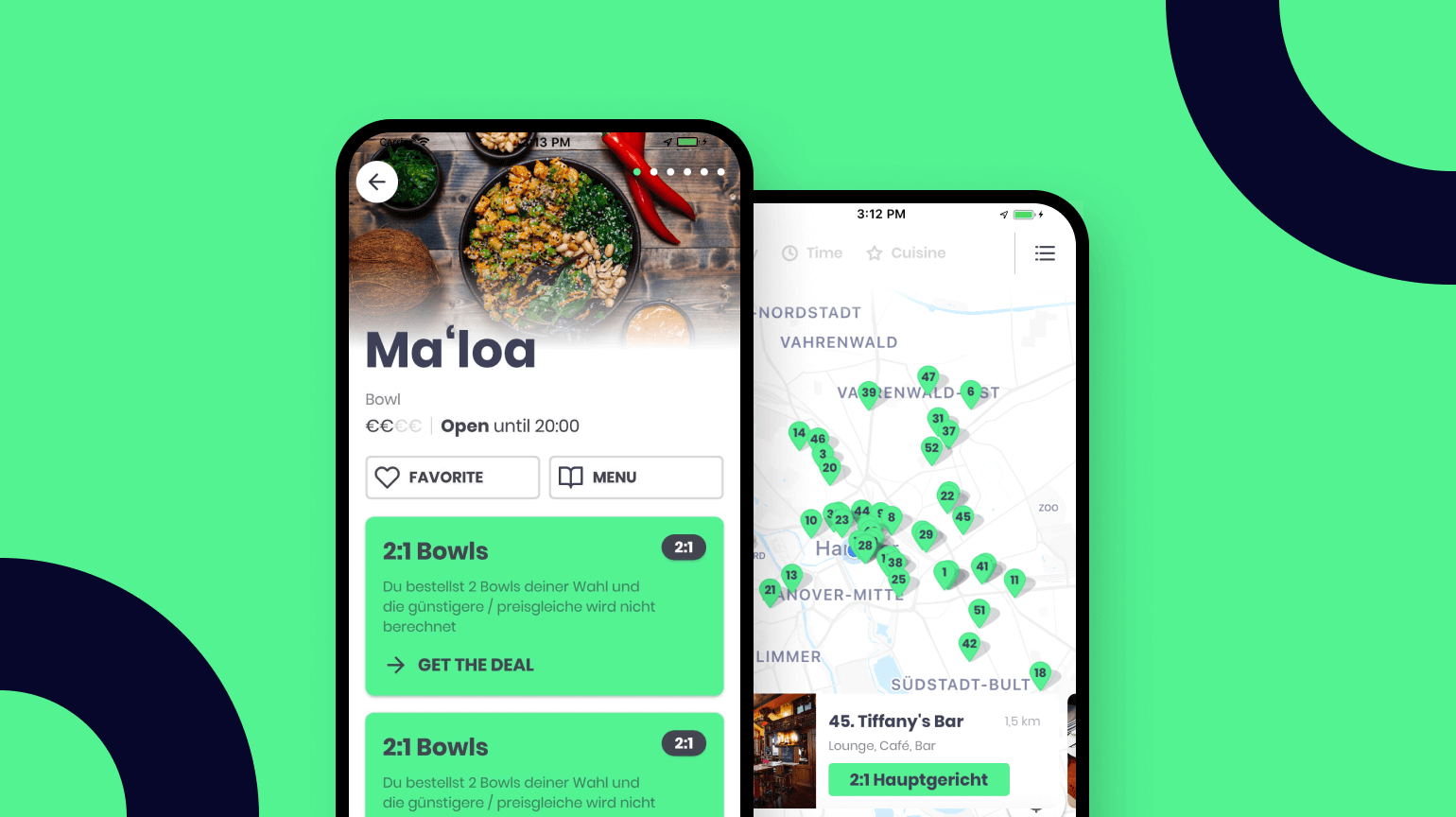 Case study
NeoTaste: Deals for Foodies
We partnered with a startup from Germany that aims to provide foodies with more opportunities to enjoy a visit to a restaurant.
What industries do we have experience with?
Over the last couple of years, we've designed and developed software for all kinds of industries, including healthcare, automotive, manufacturing, e-commerce and retail, travel and transportation, real estate, FMCG, education, fitness, lifestyle and more. We have experience working with Startups, SaaS companies, and Enterprise-level organizations. You can see some examples of our work in our portfolio.
Can we take over a project developed by another company?
Definitely! We'll have to first analyze it to give you recommendations on how to proceed, but we're open to such challenges.
Do we work with NDAs?
Yes. We're professional and keep our cooperation confidential. If you need to protect the information you give us in order to create the product for you, we respect it.
What is our tech stack?
We define the technology stack for each project individually, considering such parameters as performance, security, efficiency, and scalability. We deliver software solutions based on the most advanced frameworks and technologies currently available. The key technologies we use are: Microsoft .NET, .NET Core, Azure Cloud, Angular, React, Node.js, JavaScript, TypeScript, Java, Kotlin, Swift, Xamarin. On a high-level, our systems are based on a microservices architecture utilizing Docker containers, 
and Kubernetes clusters.