AR solutions
How to approach Augmented Reality projects
In Augmented Reality projects, your goal is to put an interactive, digital layer over the real world. It's not your average software project. Whether you want to build an AR game or a tool, you're going to need a cross-functional team with broad expertise. 
Augmented Reality is a hyped technology, and hype isn't always a good thing. Many industry influencers will gladly tell you that you NEED AR to stay competitive, but that's a blatant lie. You don't need AR software to stay competitive, but it's definitely worth considering for other purposes, like increasing sales, enriching your customer experience, or as a stand-alone AR product. 
Building blocks of Augmented Reality
Context and device
Where will your users be? What type of device will they be using? Currently mobile is the most popular AR platform, but new devices are around the corner.
Type of interaction
What type of experience will you enable for your users? How will they benefit? Which features have the highest priority?
Visuals
How should your augmented reality look like? What type of visual assets are necessary? How should they react to user input?

The hard things about Augmented Reality
AR went mainstream years ago, but business adoption is still lagging
How to get AR projects off the ground
The single most popular augmented reality app is Pokémon Go. It was released in 2016, and to this day if you mention AR, Pokémon Go is the most prominent example. And it's awesome, but also a bit sad, because AR is one of those technologies with huge potential for building innovative products that actually make life better for people – in areas like healthcare, therapy, visual design, manufacturing, flight training, navigation, and much more.  
But there's also a lot of downside potential of your AR product idea failing. There's plenty of risk involved, so one of the first challenges you'll face with AR projects is stakeholder buy-in. 
Pokémon Go was a sure shot. The producers had a huge target group of Pokémon fans, a lot of them raised on the franchise and technologically proficient. For most AR projects, this won't be the case – especially if you're in the Business-to-Business sector. To get all stakeholders convinced and willing to invest resources into your AR project, you can't leave any stone unturned in your target group research. You need a clear idea of who will use your AR software, how they will benefit, and how you'll make it easy for them to adopt it. 
Next, you need a cross-disciplinary team of experts to build your product. The amount of science involved in AR software can be staggering – AR products involve conventional programming, machine learning, 3D graphic design, motion tracking, experience and usability design, optics and more. 
With AR you can literally do magic. You're combining the digital world with the physical. It's not a run-of-the-mill website or a simple CRUD app. So, to get an AR project off the ground, you need thorough preparation, a cross-disciplinary team, and finally – a lot of creativity! 
AR has potential in virtually any industry
Let's get the first industry out of the way – entertainment. Obviously, as the technology evolves, we'll see exciting new games that will offer intriguing new experiences to gamers of all ages. Pokémon Go is just the beginning.  
Next up – retail and ecommerce. Integrating traditional marketing with digital has never been so exciting. Using certain triggers (like a specific product in your store), users could use an AR-enabled device to view additional information, or find alternatives. Print ads can be brought to life when a user points at them with their phone. Digital, AR dressing rooms have been possible for years. You can upload a picture to a store and try on different clothes in the digital realm. Or see how different make-up products would look on you. And don't even get me started on furniture! Some stores let you furnish your living space completely digitally before you decide to by any products. Honestly, we're just scratching the surface here, but it's time to move on to other industries. 
How about AR in education? Instead of telling students about something, just show it to them. Teaching biology to middle schoolers? Give the kids an AR app to view different animals as if they were in the classroom. Teaching calculus to college students? Use an AR app to visualize the rate of change in real-time. Teaching aspiring automotive technicians? AR will let you show them the exact parts and systems that you're explaining, without the need for any physical models. 
Next, there's urban planning, design and architecture. Real estate shops use virtual home tours to showcase the locations they're selling. Architects can showcase their designs using AR to provide a more immersive, engaging customer experience. It's becoming possible to work with designs on-location, instead of being limited to designing in your office. 
AR has plenty of use cases in manufacturing. When operating heavy machinery, it's not good to look away from what you're doing. Typically, that's what people would have to do when they needed to look at instructions or check something. Now, AR technology can be used to overlay all the information they need on the machine itself.  
In health & fitness, AR can be used to make therapies and training more exciting and easier to do. Plus, as Pokémon Go has shown us, AR apps are a great way to motivate people to walk around and meet new friends. It can also be a great way to liven up experiences that are mind-numbingly boring, like physical therapy or everyday workouts. 
And the list of industries goes on. AR has endless potential applications, in virtually any industry there is. 
Choosing the right partners for your AR project
If the IT industry is still young, the AR industry is basically in its infancy. The most exciting applications of AR are still to come, and your project might be the next big Augmented Reality thing. 
But you must be careful. Remember that there's a lot of downside potential here. If you jump the gun with an AR project, you'll be wasting a lot of resources with no chance of ROI.  
Whether you're building an in-house team, or browsing through custom software vendors to outsource your project, remember one thing: don't believe the hype. Always look at the fundamentals of your project, don't get blinded by the fact that it's an exciting, new technology. The AR projects that fail are fundamentally flawed – there's no valid functionality, or no target group that would ever use it, or the risk-return ratio is completely out of whack. 
So, to increase your chances of success, focus on the fundamental value and challenges of your project. Work with partners that will help you arrive at the ideal product-market fit before you spend too much on building something that won't work. 
The flexibility and communication skills of the Angry Nerds team are impressive. A profitable and successful long-term partnership has resulted from Angry Nerds consistently delivering reliable, quality, on-time products.
Alexander Peschke, Owner of Peschkedesign
Their design skills are top-class. Angry Nerds are a truly committed and experienced team - and they're simply friendly, so it's a real pleasure working with them. They're easy-going and at the same time strongly involved in everything they do.
Product Owner, Automotive Processes Company
I'm very impressed with the UX/UI design team. They've done an excellent job, and comparing their skills with other companies I had worked with over the years, I can definitely say that Angry Nerds are experts when it comes to user interface applications.
Project Leader, Electronics Design and Manufacturing Company
Case study
Cats and Dogs: The Weather App
A weather app with a twist! Based on the designs provided by the client, we developed a mobile app that is both useful and entertaining.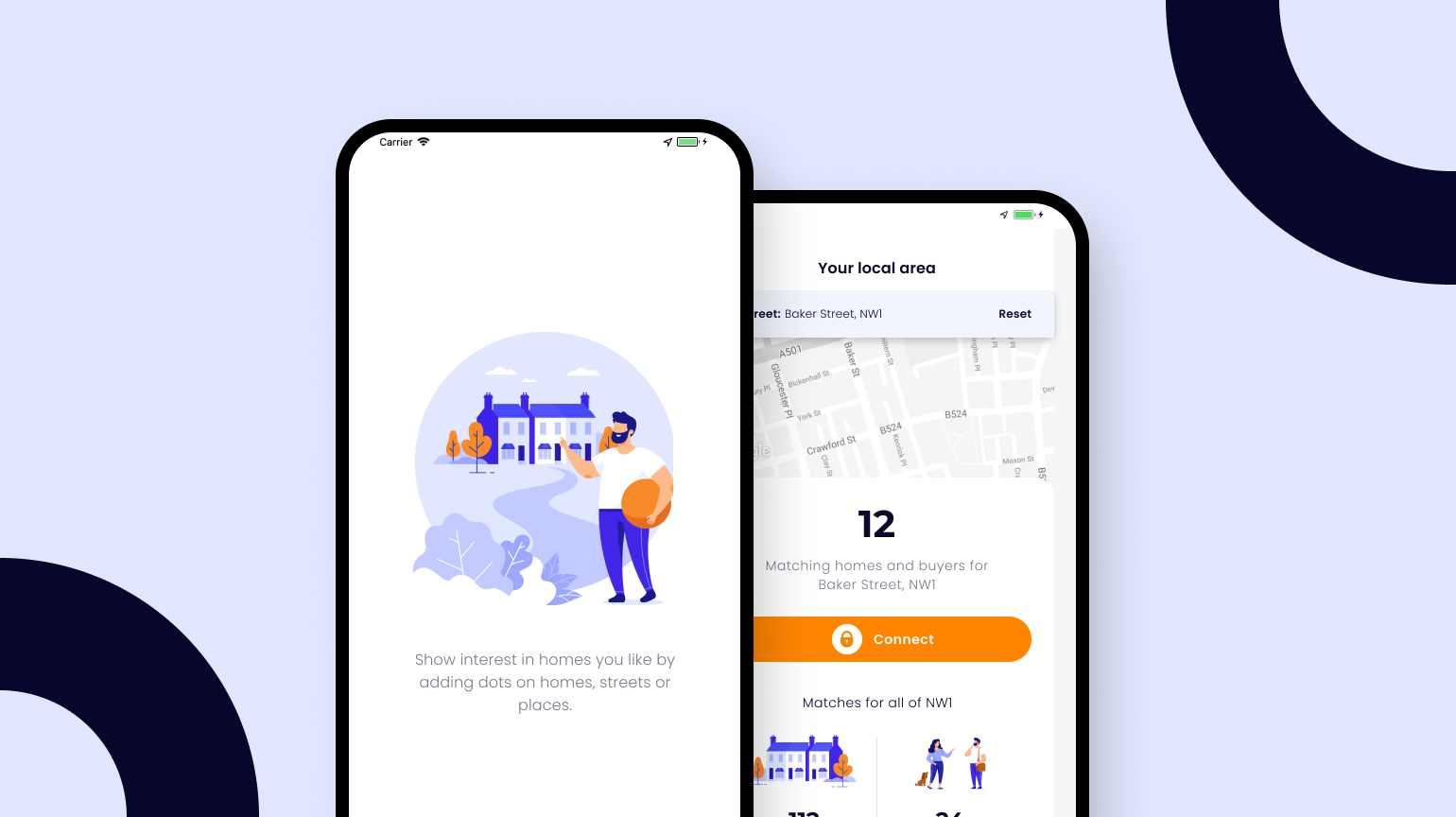 Homedot: Disruptive Real Estate App
Discontinued app for the British real estate market. Homedot tried to disrupt the market for home buyers and real estate sellers.
What industries do we have experience with?
Over the last couple of years, we've designed and developed software for all kinds of industries, including healthcare, automotive, manufacturing, e-commerce and retail, travel and transportation, real estate, FMCG, education, fitness, lifestyle and more. We have experience working with Startups, SaaS companies, and Enterprise-level organizations. You can see some examples of our work in our portfolio.
Can we take over a project developed by another company?
Definitely! We'll have to first analyze it to give you recommendations on how to proceed, but we're open to such challenges.
Do we work with NDAs?
Yes. We're professional and keep our cooperation confidential. If you need to protect the information you give us in order to create the product for you, we respect it.
Where is our team located?
Our company is headquartered in Wrocław, Poland, and has offices in the USA (Rochester, NY) and Canada (Toronto, ON). Most of our development team is based in Wrocław, with a few people working remotely from other cities. Poland is known to be an excellent IT talent hub, and Wrocław, as one of its major cities, is a go-to place for companies looking for software development partners. If you'd like to meet our team, head to our About page. You can also drop us a message to get to know more about particular roles and see detailed profiles.