Our team at Angry Nerds just received some exciting news from Clutch Analyst Jeff Dixon! He just called to let us know that internationally renowned B2B rating and review service, Clutch, named us as one of Poland's top software developers for 2020! Clutch's research shows that amongst all providers in Poland, we're consistently one of the best.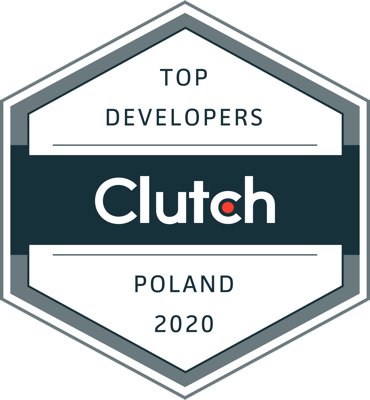 Clutch is the world's home of B2B leaders as the preeminent ratings and reviews platform. Located in the heart of the District of Columbia, Clutch has a dedicated team of analysts who conducts reviews with clients from around the world. Then, their editorial team independently verifies the content and curates it into a case study style format, ensuring that you are receiving all the information that you need as you purchase B2B services. Clutch is the gold standard for B2B ratings and reviews, and we're honored to maintain a stellar 5.0-star average on the platform!
In a recent review, the HR Digital Innovations Manager for an international restaurant operator praised the GUI Development we created for their central HR database in order to manage employee data at franchised restaurants. The solution consists of a central database and a GUI that allows users to create, edit, and remove that data.
Although the project is still ongoing, the reviewer is certain that we will reach all of their goals because of our agile mindset, seamless collaboration, adaptability, and ability to take on challenges and client feedback in stride.
We really value their flexibility and openness, especially in these challenging times for our industry (with the impact of the pandemic). Angry Nerds are always eager to work out a solution that will be beneficial for us. They also quickly react to our feedback.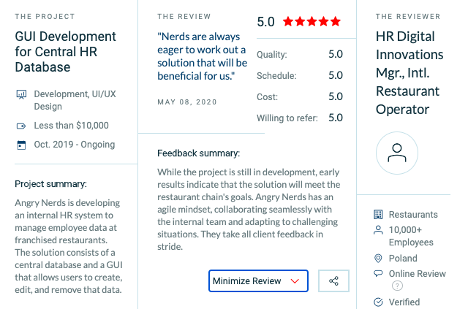 We're incredibly grateful to all of our satisfied clients! To join their ranks, contact us today!