User-centered design
Why should you care about improving usability?
Building software is an iterative process, and the iterations shouldn't stop after your application is launched. When the core development work is done, UX optimization should become the new priority. Usability is a critical part of this optimization. 
Usability literally means whether your software is useful. Does the app, website or system do what it's supposed to do? Is it easy, or annoying to use? Is it safe and efficient? 
These questions are almost impossible to answer from the perspective of a developer or project manager. If the code works and doesn't crash, then the app works, right? Not quite. 
Usability, and UX in general, is less about code and more about what happens in the user's head. You can't solve usability issues just with programming. You need to adopt practices from psychology and neuroscience, and use them to drive design decisions. 
Take the most basic example – application speed. It's a huge part of usability. Slow performance can easily drive users away to look for alternative apps. Plus, apps are often loaded with tracking scripts for ads and data collection, usually causing more harm than good, because too many of these scripts annoy users and make apps slower. 
Key aspects of software usability
Security
Software that leaks user data isn't useful, it's harmful. Users need to know that your app is safe for them to use.
Ease of use
It's not difficult to make a complex, unintuitive interface. The real challenge is making an app that a 5-year-old could use.
Results
Inputs and outputs. When users do something in your app, they expect specific results. Don't disappoint them.

What does Usability Consulting accomplish?
Usability makes users happy, and helps your software flourish
When do you improve software usability?
Improving usability is an ongoing process, you do it during the design phase, during development, and after your software is launched. 
Early-stage usability is all about achieving the right mix of features and design to satisfy early adopters. Key features get priority, and you remove anything that would obscure the least-resistance path to making the user happy. 
After your software gains traction, the time comes to optimize, and improve accessibility across the board (for different devices, operating systems, browsers, as well as for people with disabilities). You introduce more features, in ways that don't steal attention from the main functionalities. 
Long-term usability is a dialogue between users and creators. It's driven by feedback and usage data, and powered by the insanely fast evolution of digital technology. You maintain the software, keep it fully operational, and keep optimizing and improving the system and the interface. 
Two facets of usability
There are two facets of usability:  
Standards and regulatory compliance,

 

User perspective.

 
They're intertwined, and usually improving one improves the other. Not always though, because stringent regulations and standards sometimes force engineers to build overly complicated systems that can be difficult from the user's perspective. 
For example, FinTech and MedTech companies have to adhere to strict data access laws and cybersecurity standards. Understandably so, because in these cases, loss of data or failure of software means money is lost, or lives are ruined. And so, developers need to find the golden balance between compliance and user satisfaction. 
So. what are the steps you can take to ensure usability? When it comes to standards, it comes down to getting ISO certifications and regulatory approvals. 
When it comes to usability from the user's perspective, it's less about paperwork and more about experimentation: 
Usage data analysis – 

analyzing

key indicators of how users interact with the software



Testing – launching 

multiple 

versions of features or designs to different groups of users

Feedback – collecting user opinions about key features or design aspects

 
Translating usability principles into code & design
Usability engineering (AKA usability design) is about building the software that the users don't know they want. If it sounds confusing, it's because it is confusing.  
To understand it better, think about what happens every time a major social media platform has a complete design overhaul. Every new version of Facebook is met with a lot of user resistance, but is ultimately accepted by all when they get used to the changes. 
Ultimately, users can't tell you exactly what your software should look like – at least not using words. But they can hint at what they like, and show you what they need through testing and usage data.  
There's a lot of subliminal processing that goes on when we interact with any system. The best usability design takes into account the way that our brains subconsciously process information. It's not always easy to translate these principles into code & design decisions. It's as much an art as it is a science, and it usually takes a good deal of experimentation. 
How do you improve usability?
There are two ways that we work on usability with our clients: 
Usability consulting 

– at any stage of your project, we can deploy our team to 

perform a usability audit

, then suggest and/or implement optimizations,

Throughout project lifecycle – if you're outsourcing your whole project to us, we design and improve usability as the project grows.
When working on usability, we focus on how to maximize your business goals within the framework of your tech stack.  
An important aspect of working on usability is observability. We need to be able to see what goes on in your system. What users do, what type of data goes in and out, how the system manages the workload. To do this, we use tools for analytics and monitoring. This way, we can perform optimizations in a measurable way. 
Throughout the process of improving usability, we boost performance, improve user experience and interfaces, and monitor the effect that changes have on user behavior. 
Signs that you need to work on usability
As mentioned before, improving usability is an ongoing process. In reality, it's often a low-priority issue in the early stages of a project. When it comes to an MVP and early traction, it usually doesn't pay to do comprehensive usability audits – especially since there's not enough user data to make informed decisions. 
Most often, usability jumps to a higher priority when the user base is steadily growing, and you can start looking for bottlenecks in your software instead of focusing on key features. This is when you might see signs of usability issues, for example: 
Performance is increasingly lagging,

 

Users 

are experiencing issues with your software,

 

A big part of new users sign up, log in once and never come back

,

 

Too many new features make your software bloated (in terms of weight and interfaces)

,

 

Unexpected bugs reveal themselves, crashes happen more often.

 
When you're having these issues, it might be time to get serious about improving usability. 
Their design skills are top-class. Angry Nerds are a truly committed and experienced team - and they're simply friendly, so it's a real pleasure working with them. They're easy-going and at the same time strongly involved in everything they do.
Product Owner, Automotive Processes Company
The flexibility and communication skills of the Angry Nerds team are impressive. A profitable and successful long-term partnership has resulted from Angry Nerds consistently delivering reliable, quality, on-time products.
Alexander Peschke, Owner of Peschkedesign
I'm very impressed with the UX/UI design team. They've done an excellent job, and comparing their skills with other companies I had worked with over the years, I can definitely say that Angry Nerds are experts when it comes to user interface applications.
Project Leader, Electronics Design and Manufacturing Company
Case study
Cats and Dogs: The Weather App
A weather app with a twist! Based on the designs provided by the client, we developed a mobile app that is both useful and entertaining.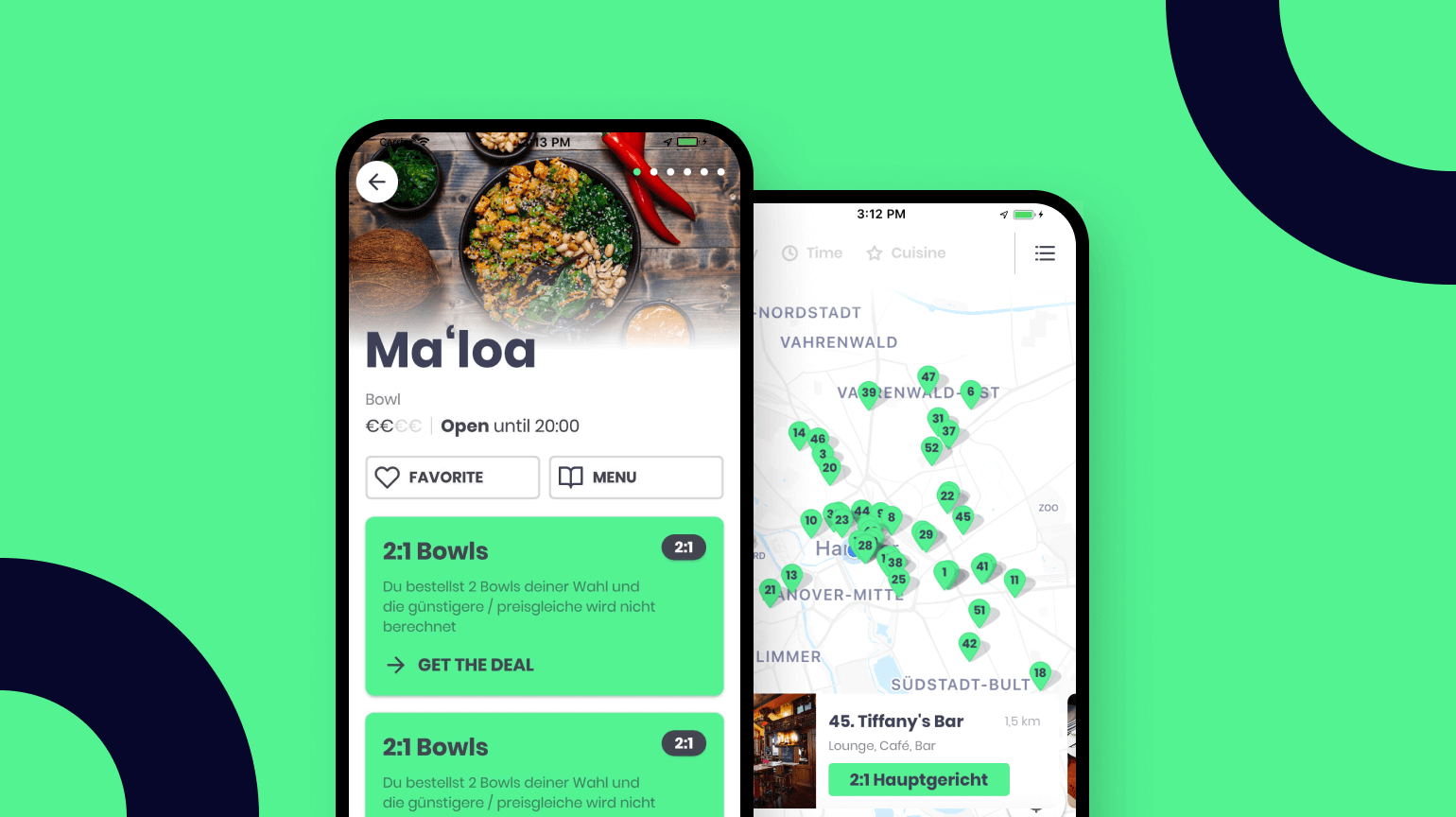 Case study
NeoTaste: Deals for Foodies
We partnered with a startup from Germany that aims to provide foodies with more opportunities to enjoy a visit to a restaurant.
What industries do we have experience with?
Over the last couple of years, we've designed and developed software for all kinds of industries, including healthcare, automotive, manufacturing, e-commerce and retail, travel and transportation, real estate, FMCG, education, fitness, lifestyle and more. We have experience working with Startups, SaaS companies, and Enterprise-level organizations. You can see some examples of our work in our portfolio.
Can we take over a project developed by another company?
Definitely! We'll have to first analyze it to give you recommendations on how to proceed, but we're open to such challenges.
Do we work with NDAs?
Yes. We're professional and keep our cooperation confidential. If you need to protect the information you give us in order to create the product for you, we respect it.
Where is our team located?
Our company is headquartered in Wrocław, Poland, and has offices in the USA (Rochester, NY) and Canada (Toronto, ON). Most of our development team is based in Wrocław, with a few people working remotely from other cities. Poland is known to be an excellent IT talent hub, and Wrocław, as one of its major cities, is a go-to place for companies looking for software development partners. If you'd like to meet our team, head to our About page. You can also drop us a message to get to know more about particular roles and see detailed profiles.