Beginnings are motivational. No matter if it's the beginning of a new year or a new week, we feel the world is on our side. Everything's possible! We make plans and resolutions to be more productive, achieve more, make the most of the time we have every day.
Being productive is easy... during the first 2 hours. It becomes harder with every minute and every day, until...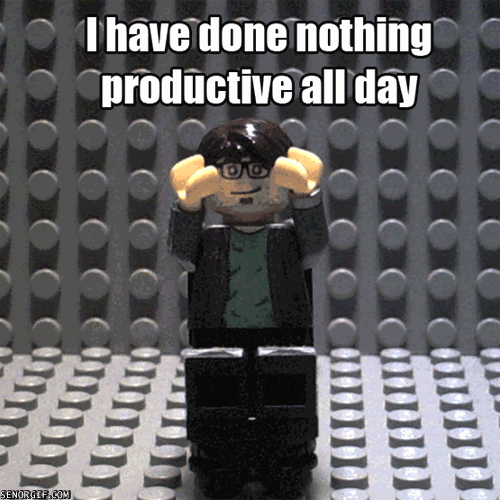 Let's face the truth - relying on your own willpower is not enough. It doesn't matter if you're a developer, designer, project manager or anyone else. We all need help to stay focused, get organized and control distractions.
There are a lot of tools and browser extensions that can boost our productivity. You probably know some of them used in a workplace environment. Managing the teamwork, scheduling and getting the timesheets right when you run a business or work at a company - it's a huge topic for a different blogpost. There are also dedicated tools for programmers - we already shared our favorites for Android developers. We're planning to continue the series soon and give more tips specifically for developers! In this article, we wanted to list general tools you can use for your personal benefit.
We bet you've already seen quite a lot of such lists. They mostly feature Toggl, Evernote, Trello, Calendly, Todoist... We totally agree these tools are brilliant! But you won't find them on our list. We wanted to name a few tools that are less common. Make sure you don't miss a bonus at the end of the article!
Note: some of the described features might be available only in paid versions of the apps.
Procrastination... You're familiar with the term, aren't you? There are days when your willpower needs a special boost and that's why you might want to try out Freedom. The name speaks for itself – the app gives you freedom from all the distractions. You can use it to block certain websites, apps... or block the whole internet. Feeling the urge to check on Facebook or respond to a message? No way, it's blocked until you finish the task!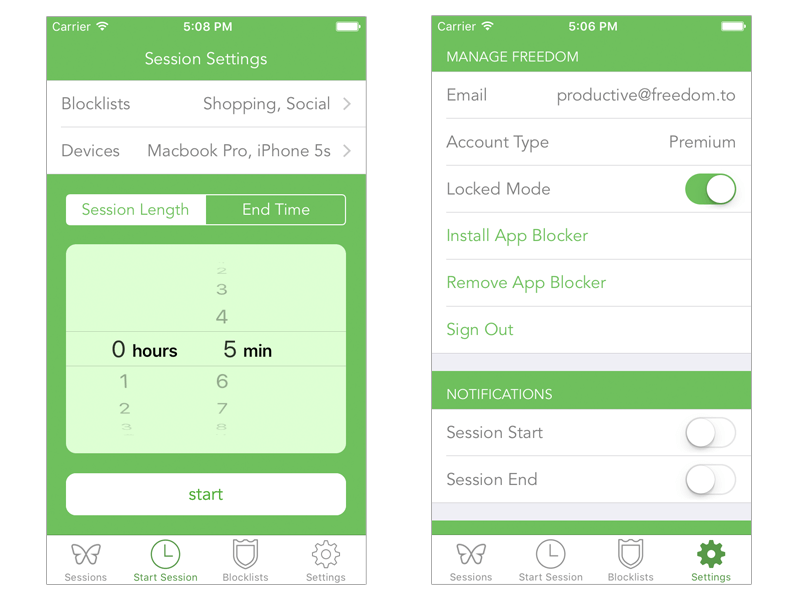 You can schedule block sessions across all your devices and even block yourself from ending a block session, so there's no going back once you start working. With the new level of deep focus, your tasks will be completed in no time!
If it's your phone that distracts you the most when you're trying to work, then Forest is the right app for you. When you want to focus, turn on the app and plant a tree. A little sapling will grow into a beautiful tree with time... Of course, unless you kill it – by leaving the app and starting doing something on your phone!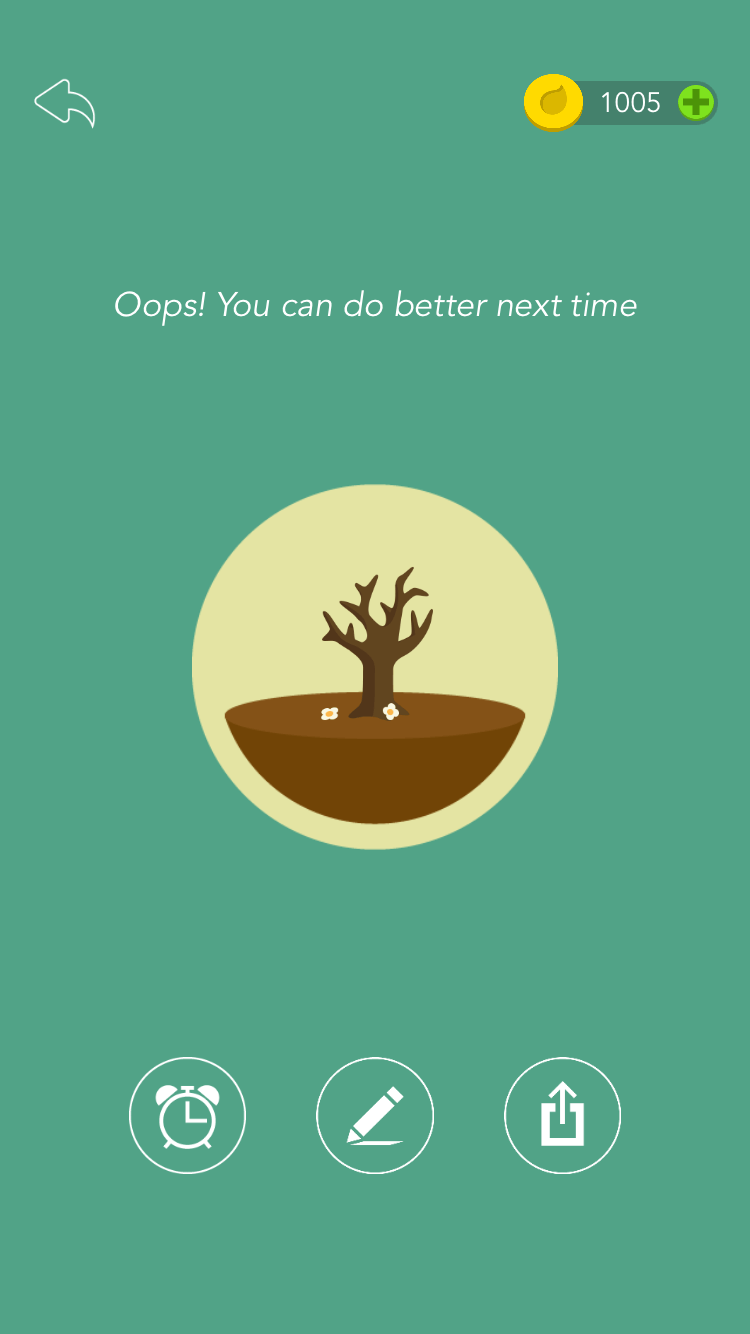 You can whitelist the apps you need to use when you're working, but don't be too easy on yourself – you really don't need Facebook all the time. With each successful planting, you can unlock new species and create a beautiful forest. The app also gives you stats about the time you spend on your phone. But its most amazing feature is that using this app you help planting real trees on our planet. How cool is that?!
This one is our top choice for freelancers or people working remotely. When you're in the office, there are people around you and it's a easier to discipline yourself. When everyone's working, you can't be the only one who doesn't. At home or in any remote location, you might feel more at ease. There's no risk a coworker or your boss will appear behind you, right? The guilty pleasure of scrolling doesn't feel so guilty anymore...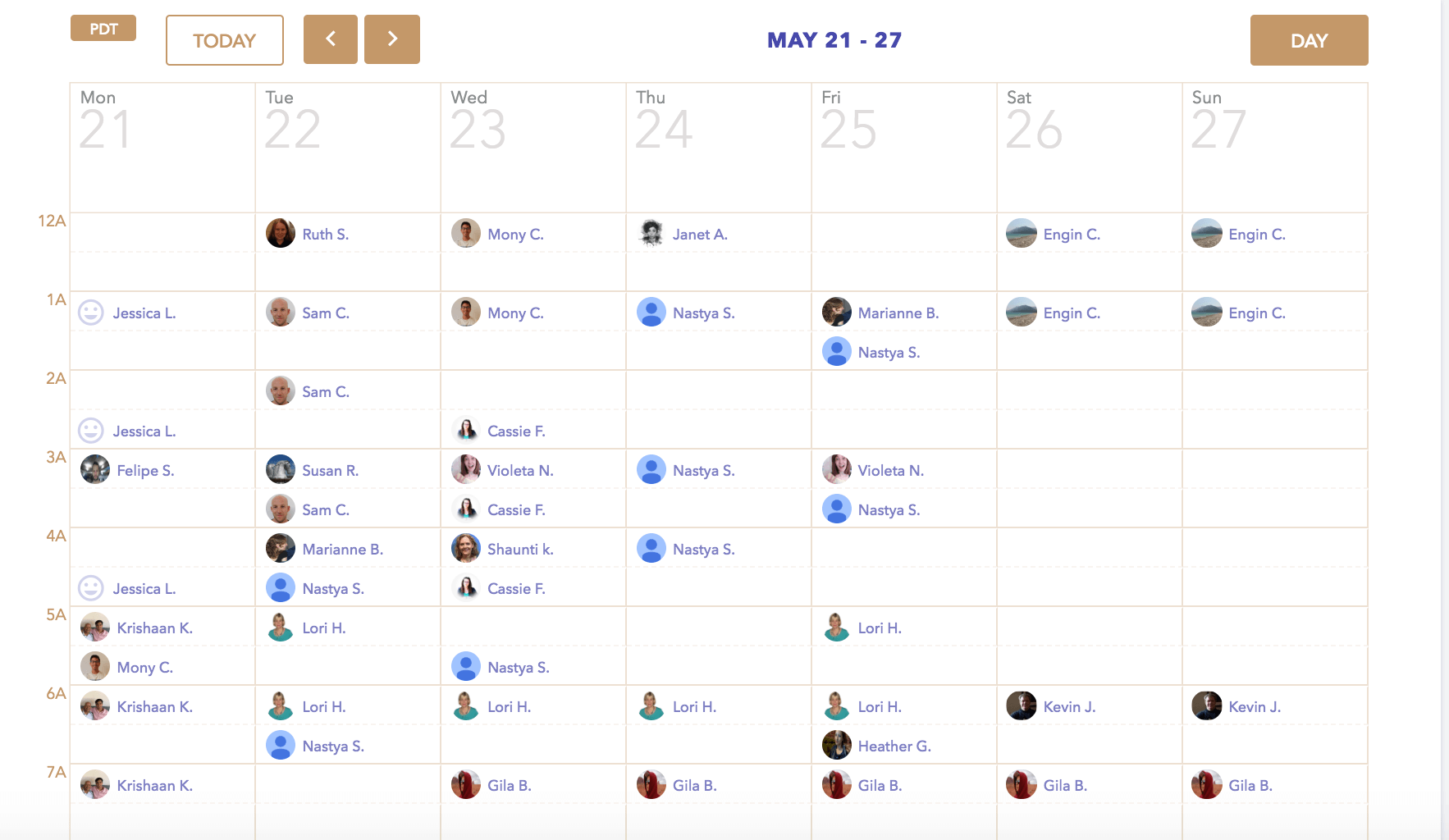 What you need to get back on track is someone who will work beside you. That's the purpose of Focusmate – a virtual coworking experience. Choose when you want to work, start a session with a partner, declare your goal and start working. Both of you working at the same time means double motivation, so grab a mate and get your work done!
So you think you know exactly how much time you spend doing different things on your computer or mobile phone during the day? We dare to say you don't have the slightest idea! RescueTime can help you get the full picture of your everyday activities and see where you can save time and arrange your tasks better.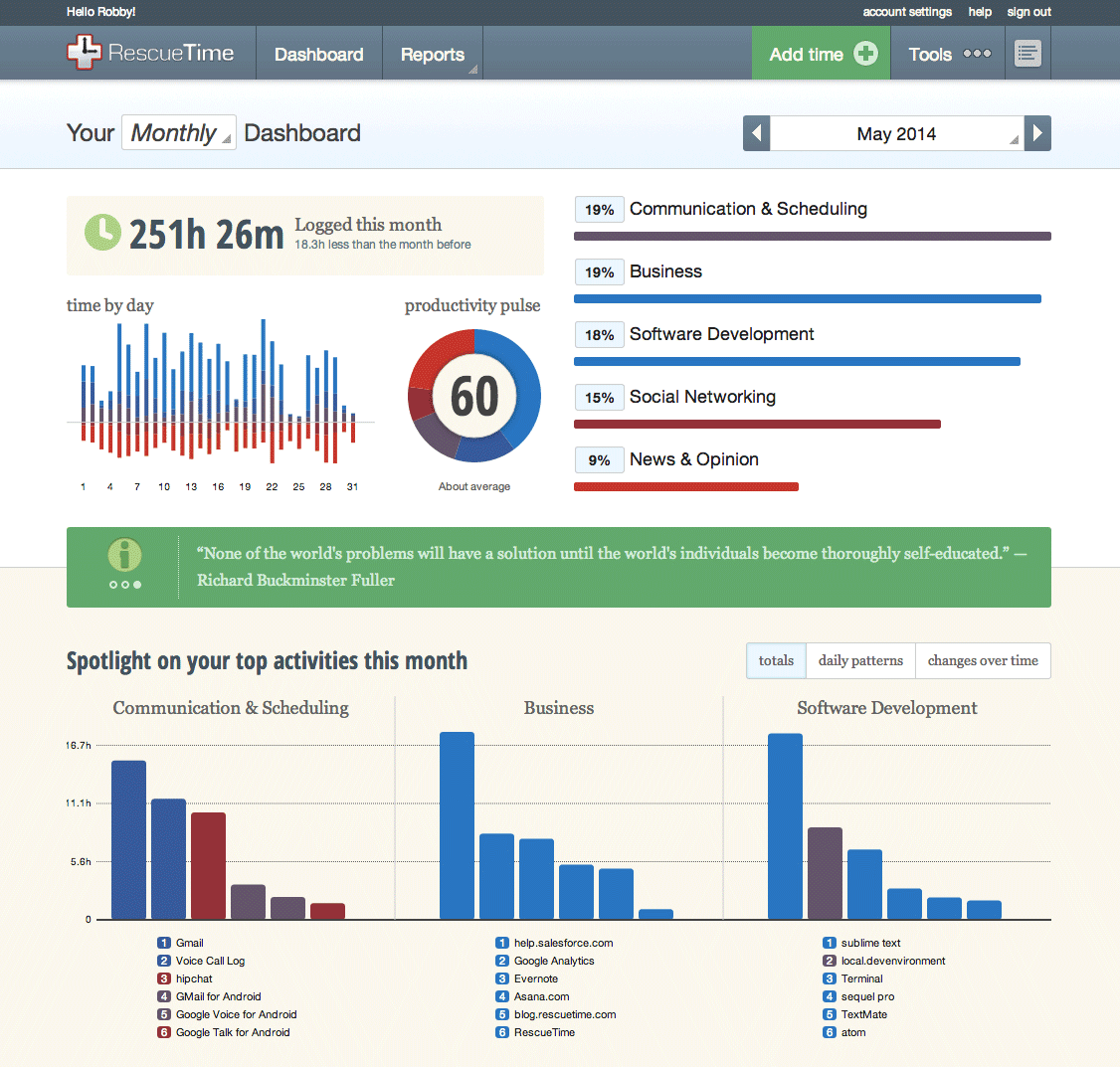 It runs in the background, tracking the time you spend on apps and websites and giving you detailed reports. And there's more! The app blocks distracting websites, so you can maximize focus. It also lets you set alerts - for example, when you spent a particular amount of time on an activity (too much time on Facebook, eh?). Plus, you can log your daily accomplishments and see the progress you make towards your goals. No more time wasting!
Imagine you're a hero in an amazing tale, fighting with monsters and facing challenges... Sounds like your everyday life, right? Let's take it to the next level with Habitica. The app is gamification at its best! It helps you build healthy habits and increase productivity while having a lot of fun on the way. Every task is a creature you have to fight. When you win (= complete the task), you develop your character – level up, gain new equipment and get rewards.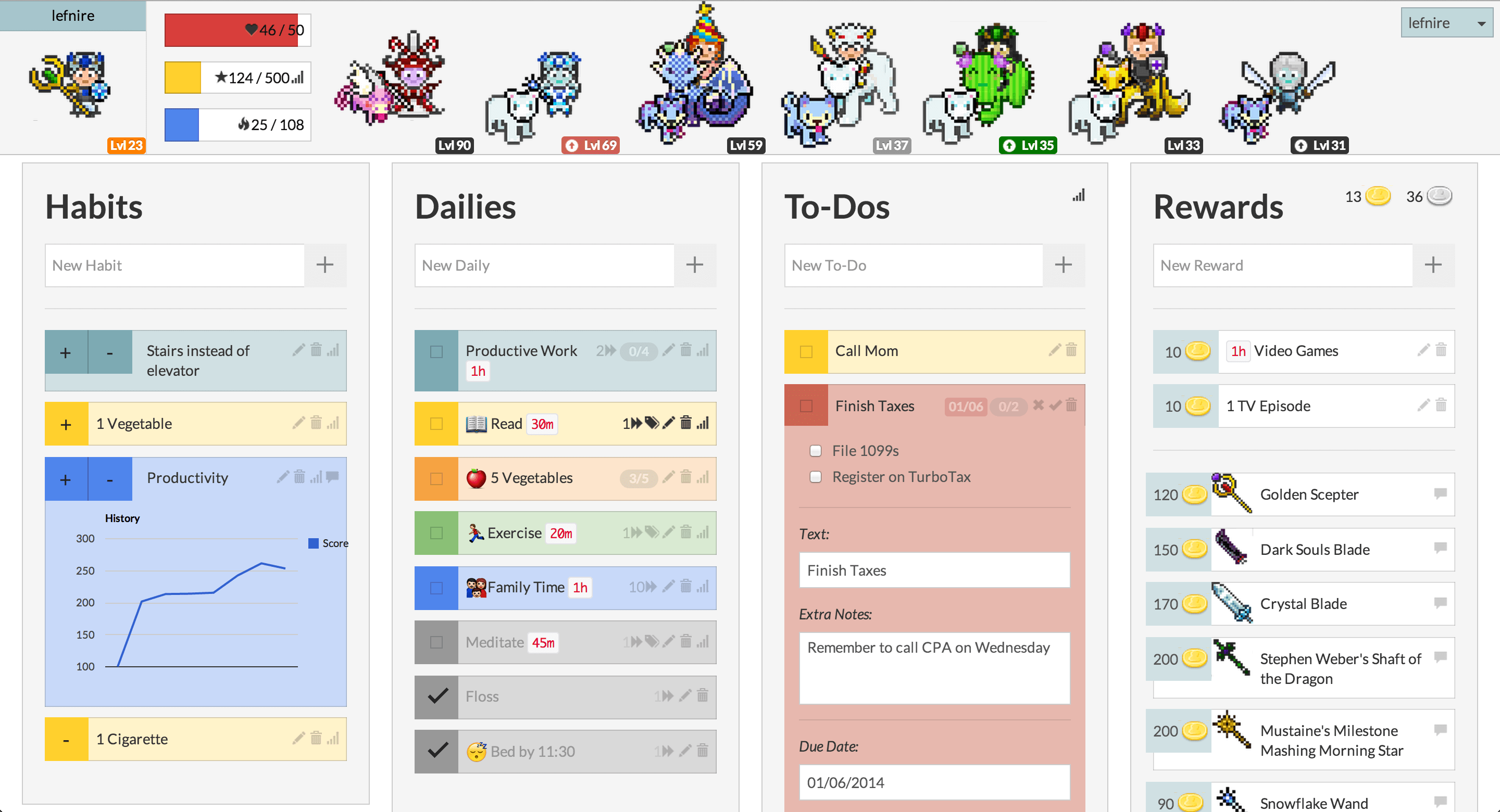 You can even customize the rewards! How about letting yourself watch an episode of your favorite series after you finish this annoying report? Gamification, in this case, means an amazing motivation boost. We recommend this app especially for gaming enthusiasts. We bet you'll love the pixel-art style!
Scheduling meetings and calls can be a real pain. You spend hours exchanging dozens of e-mails just to get the date and time right. And the trouble even doubles when you communicate in different time zones! Now, there's someone who can do it all for you. Amy + Andrew will make all the necessary arrangements – let them know your preferences and availability, and they will do the rest.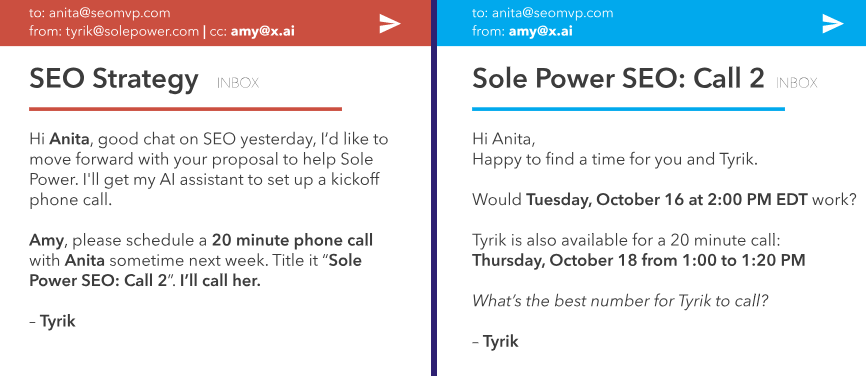 They will find the right date, time and spot, communicate with the participants of the meeting, reschedule or cancel if needed... And it's only the beginning! Amy + Andrew are AI assistants that understand natural language and they're part of an amazing tool that helps you save a lot of time on making arrangements with other people. Your new personal assistant is just a click away!
Half of the success on the road to productivity is creating a good working environment. That's why you need Noisli! The tool can improve your focus and increase productivity with sounds and colors. It will block out what annoys you, reduce stress and pressure. You can pick if you prefer to boost your productivity or relax and Noisli will do the rest – or you can mix different sounds to find something that suits you best.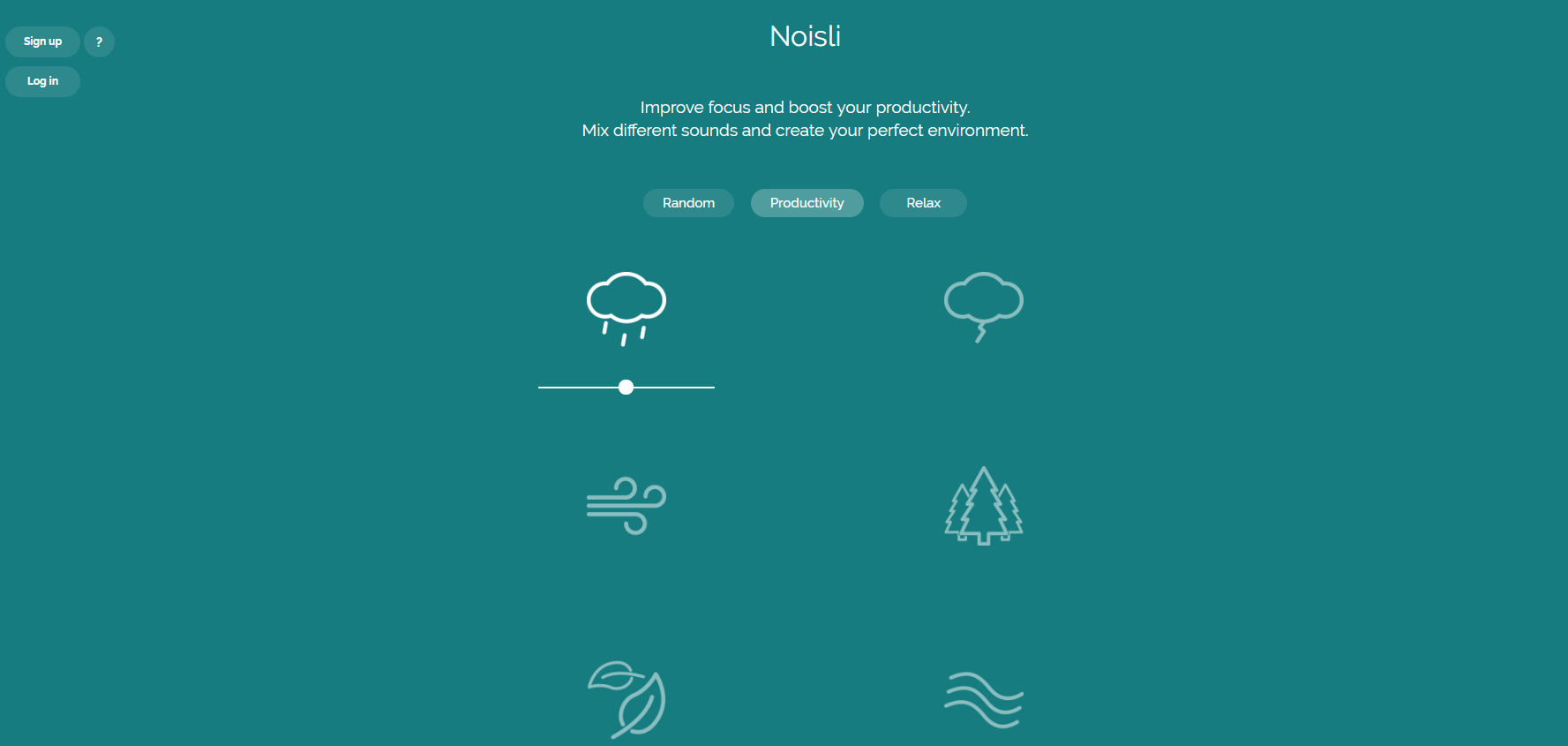 There are many sounds to choose from - the natural ones, such as rain or storm, singing birds, crackling fire or swooshing waves. There are also sounds imitating a cafe, passing train and different types of noises. Dreaming of a morning by the sea, with a soft breeze refreshing your skin or an evening by the fire, with the mysterious sounds of the night around you? All you need is a pair of headphones and Noisli!
In order to stay productive, you need to take a break. Or better – take multiple breaks of different duration. With this clever tool, you can arrange customizable breaks of a different kind. A quick 30-second pause or a longer lunch break? The app will remind you when it's time to walk away for a moment from your computer.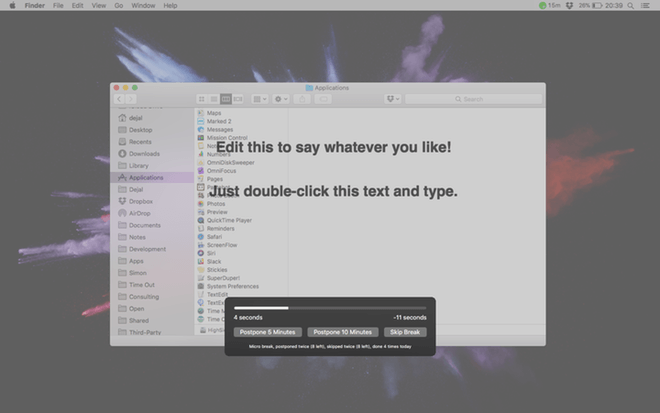 You can personalize what will appear on your screen during the break. It can be a motivational quote or a reminder to use this time to exercise or drink water. Breaks are essential to your wellbeing so better have them scheduled!
Bonus
The apps listed above – and many others – can be helpful, but there are also simple, general tips you can apply to work smarter. To name a few: learn the keyboard shortcuts you need the most, organize your files and keep your computer clean, store your files in a cloud to make sure you always have quick access to what you need, make use of "do not disturb" modes on the communication apps... Surely you can come up with a few ideas yourself!
Try to discipline yourself, but be realistic and don't be too hard on yourself. Even if you think you make the tiniest of steps towards your goal, you still make them. Learn when and where you are the most productive and find out what enhances your focus. Is it this specific playlist? Or maybe the atmosphere of a rush hour at a cafe nearby? Take your time to find your ways to get things done.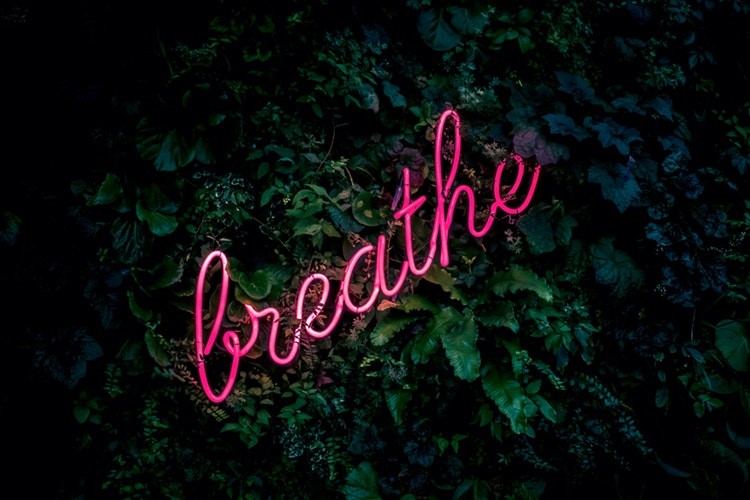 But it all won't do, if you don't take care of yourself. No app in the world will help you increase productivity if you're unwell, tired, hungry and not hydrated. Remember to have a good rest – breathe, take a walk, look away from your screen. Eat regularly, drink water, exercise just a little bit – it will make a huge difference! Remember to have fun, relax and sleep well. All this will boost your productivity better than any app!